CAREERS
A message from the Human Resources Director
Joining Diot-Siaci means taking part in the construction of a personal adventure within a developing group, offering services and extensive expertise based on in-depth knowledge of the market.
You will benefit from real opportunities for development while maintaining the values of a company on a human scale where the employees are at the heart of our commitments and a real asset in meeting the challenges of the business; a group where we know and appreciate each other.
Sylvie Rolland
Director of Human Resources
JOIN DIOT-SIACI
Spotlight on our job offers
Every year, we recruit many talented people (on permanent or fixed-term contracts, work-study programs and internships) for our various sites in France and also for our international subsidiaries. All of our vacancies are open to persons with disabilities and all our job offers can be viewed on our careers site and our LinkedIn page.
We respond to all candidates who show an interest in our Group.
Mandatory and voluntary profit-sharing schemes
Employees are involved in the Group's results through annual mandatory and voluntary profit-sharing payments made into special funds
Employee Benefits and supplementary pensions
Employees have access to an employee benefits scheme that meets their health and life & disability needs as closely as possible, as well as to a supplementary pension plan.
Managing the careers of our employees is at the heart of our HR policy
We are committed to supporting you throughout your career to express your Talent.
Customized training plan
We support you in the development of your skills and your potential in different ways
Internal mobility
We encourage internal development and our Talent base is the wealth of our Group
Health and Well-being
Medical booths on main sites
Online sports courses
Training/Workshops on QWL
Employees with varied profiles
A recruitment policy that promotes diversity: students, entry level, highly-skilled, over 30 different nationalities
A positive work-life balance
Our teleworking agreement with up to 3 days working from home
Inclusion policy
We work every day to strengthen our Inclusion and Disability policy by promoting equal opportunities and combating all forms of discrimination.
Managing the careers of our employees is at the heart of our HR & CSR policy
Each individual achievement contributes to overall performance.
That's why we are committed to supporting you throughout your career to help you express your Talent.
Depending on the potential of each individual and their chosen career path, various opportunities are available: acquisition of new skills, participation in structuring projects, geographical mobility, enhancing their expertise, business-line crossover, managerial development, and more.
Internal opportunities are available to all.
There are dozens of internal transfers and developments every year.
Training throughout your career
Innovative training programs are set up to help you develop your skills and/or boost your employability, in different ways.
We position ourselves as a learning company by providing training to suit the different profiles of our diverse teams and help them develop their skills at their own pace.
Training courses are customized to meet individual and overall needs, as well as business challenges.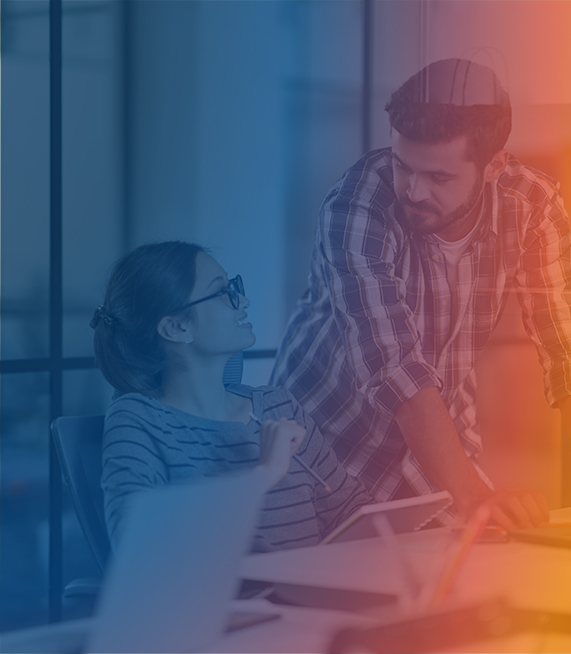 Women/Men Equality
2022 gender equality index
87/100*
Gender salary gap: 37/40
Gender salary raise gap: 20/20
Gender promotion gap: 15/15
Percentage of employees increased upon return from maternity leave: 15/15
Number of employees of the under-represented sex among the 10 highest paid: 0/10
*score obtained according to the above indicators